According to the news from BBC, the oil painting painted by British pop artist Ryan (Gerald Laing) on the subject of former U.S. President John F. Kennedy's assassination Convertible Lincoln has finally come up with art museum exhibition after lying in the warehouse for nearly 30 years.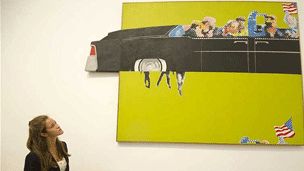 Ryan, who spent most of his life in Highland, created the painting shortly after the assassination of President John F. Kennedy 50 years ago. But Ryan's New York brokers did not want to display the painting and put it thrown into the warehouse.
The painter who devoted his life to Pop Art, was born in Newcastle in northeast of England. He has been living in Blackburn island before his death in 2011. This painting was created in 1963, and many people thought that the exhibition of this painting will lead to a huge controversy.
Today, after nearly 30 years, the art museum can finally make the "frozen" works public without ideological burden.
The length of The painting is nearly three meters, and it is based on the film materials made on the time when the "Kennedy assassination" shooting occurred by Dallas residents Sapp Luther (Abraham Zapruder).
In this painting, for the first time, and the only time Ryan used colored dots to depict President Kennedy and his wife who were in the Lincoln sedan. In the painting, Mrs. Kennedy wears a pink hat, and her husband, President John F. Kennedy is hit back in the side.
The painting depicts the American flag whicn is falling on the right side of the screen, while the legs under the car describes the secret service personnel running over on the meadow. The bottom of the painting shows the earlier screen of the film material and depicts drivers and the American flag of the convertible Lincoln. The painting is currently owned by the painter's foundations.
Ryan most famous paintings including portrait of actress Brigitte – Bardot (Brigitte Bardot) and Anna – Karina (Anna Karina).