In The Bride picture, we can see the groom's sight was taken outside from the round of half-nude woman. But the head of obedient bride leant on groom and slept soundly. Her rosy cheeks and Jane Eyre revealed the serene and happy feel. However groom and bride mixed and touched in body each other, the languid gaze of bride was not on the face of bride. But his gaze threw at the open legs of the half-nude woman at right side in picture. The draft of the woman at right side was unfinished. But her nude upper part of the body, action of the bent open legs and the private part for the women were seen clearly under the unfinished skirt. Before Klimt wrapping up the long gown for the woman, while he painted their nude body at first which seemed to express that he still want to paint the interesting thing under the appearance of respect and elegant. And the things interested him were the women's erotic and the immanent sexual.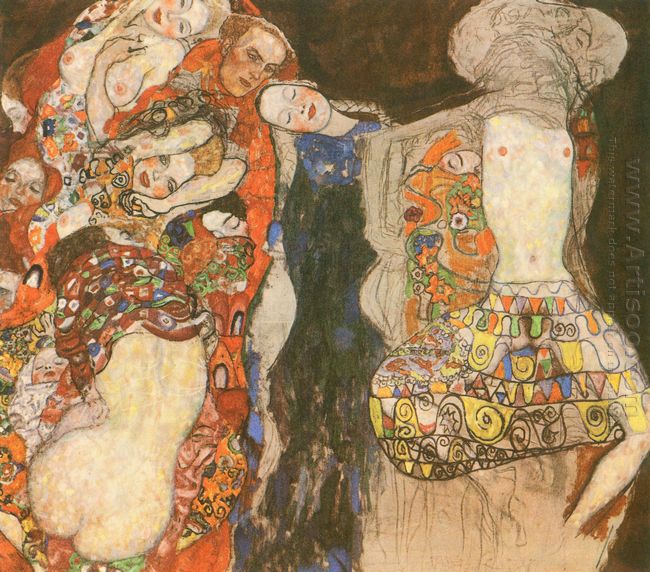 But what we saw was the bride leant on the groom tightly. Coquettish female body images on the left and right directly by the desire of the female body connected to form the whole picture。 Was this like the relationship with Klimt and Emily in true life? Although Klimt for women, the pursuit of desire is so direct and strong, whatever Emily was the tenderest and intimate Süsses Mädel for him forever. Of course, Klimt also realized this. For him, the woman who made him cause the desire, the woman he only can love and never caused the desire were complete different. But Emily was the woman who Klimt can cause the desire. Like the art scholar of history Hans Tietze said Klimt need the love so much. But he also refused the satisfaction. He can not complete certain his own love which made him dared not to take the responsibility of happiness. Every expression in his eyes showed this secret, pain and intense for the love.
The creative background of The bride was in the year before Klimt's death. At the time, he also felt
creative life.