Lithuanian-born, Russian-based artist Issac Levitan who was well-known for a number of noted Russian landscape series including this one, At the Lake Fishermen. He had great fondness for landscape painting especially for countryside. In his work, landscapes are not mere eye candy, but rather symbols of escape from the hustle and bustle society, representing the peace and quiet he was longing for.
Rendered in soft, airy hues, Levitan painting At The Lake Fishermen pulses with gentle colors and textures. In this painting, two fishmen are sitting in a boat staying on a lake, one of them is holding a fishing rod. We can see that it's a sunny day, the lake is calm and quiet with no waves and ripples, reflecting the blue sky and clouds clearly. There are reeds grown in the lake swaying in the gentle breeze. In far distance, there is dark green forest by the lake. Blue sky is decorated with floating white clouds. The whole scene is covered in an atmosphere of tranquility and peace, conveying the painter's deep desire for freeing from the agitated restless life mood.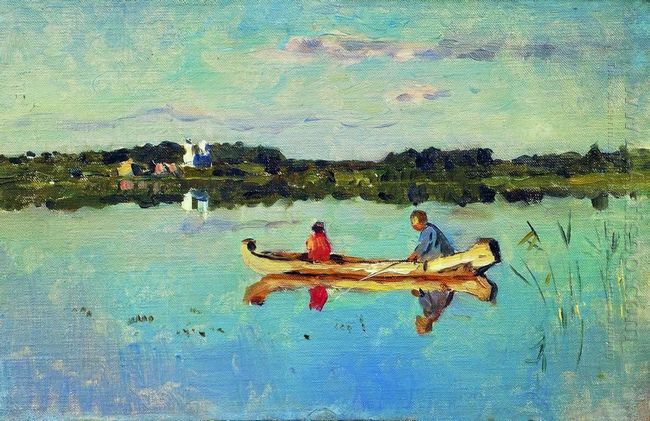 Levitan changed his viewers' perception of their mundane environment, evoking an intense feeling of the sublime. He took mundane objects as a starting point and manipulates them artfully to give new meanings to them, making the subject come to life and provide a stunning resemblance to the real thing. He owned the capability to involve viewers in his paintings and share his feelings with him.