This is the most surprised what I seen which is killing me. Once seeing the fat version, I felt so warm but so gloomy. What a complex mood. But the little cat became in the black color. Due to the black plague in Gothic period, everyone lived with a terrified heart. But we can see a little beautiful blue sky from what Fernando Botero painted. This made us more relaxed.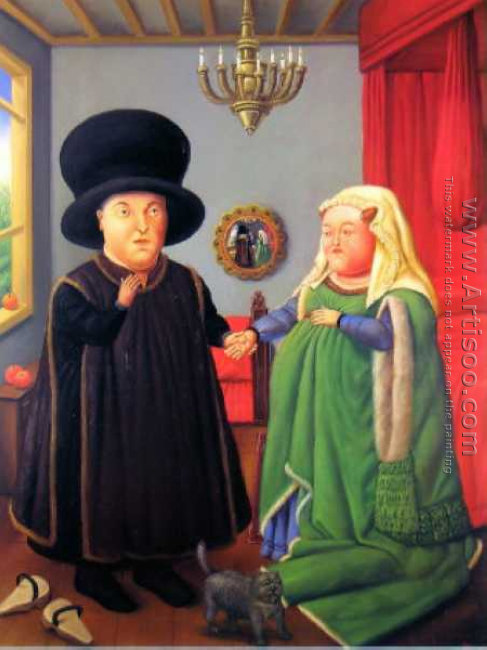 This work is a portrait of Giovanni di Nicolao Arnolfini and his wife, but is not intended as a record of their wedding. His wife is not pregnant, as is often thought, but holding up her full-skirted dress in the contemporary fashion. Arnolfini was a member of a merchant family from Lucca living in Bruges.
The ornate Latin signature translates as 'Jan van Eyck was here 1434′. The similarity to modern graffiti is not accidental. Van Eyck often inscribed his pictures in a witty way. The mirror reflects two figures in the doorway. One may be the painter himself. Arnolfini raises his right hand as he faces them, perhaps as a greeting.
Van Eyck was intensely interested in the effects of light: oil paint allowed him to depict it with great subtlety in this picture, notably on the gleaming brass chandelier.
"The Arnolfini Marriage" is a name that has been given to this untitled double portrait by Jan van Eyck, now in the National Gallery, London.
Despite the restricted space, the painter has contrived to surround them with a host of symbols. To the left, the oranges placed on the low table and the windowsills are a reminder of an original innocence, of an age before sin. Unless, that is, they are not in fact oranges but apples (it is difficult to be certain), in which case they would represent the temptation of knowledge and the fall. Above the couple's heads, the candle that has been left burning in broad daylight on one of the branches of an ornate copper chandelier can be interpreted as the nuptial flame, or as the eye of God. The small dog in the foreground is an emblem of fidelity and love. Meanwhile, the marriage bed with its bright red curtains evokes the physical act of love which, according to Christian doctrine, is an essential part of the perfect union of man and wife.