Psyche Opening the Golden Box is one of representative mythological paintings made by British famous painter John William Waterhouse in 1903.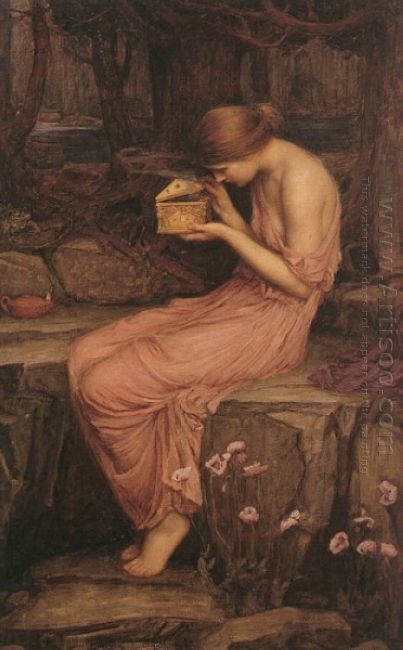 The painting depicts the moment a blonde woman with pink dress named Psyche sitting in the dirty rock who eyeing in serious and devout to the golden box she holds and a light flow of green gas running out from a little gap which opened by that woman. In this painting, Waterhouse used warm watercolors to create the mysterious surroundings, such as the medium brown trees, invisible green lake and the pink flowers.
The theme of this painting comes from the allegory love story of Psyche (the beauty human princess) and Cupid (the goddess of love). It describes Psyche finally went through all kinds of ordeals appointed by Venus and got a golden box from Queen Proserpine after Cupid's leaving. When brought the golden box back to Venus for proving her sincerely love to Cupid, she couldn't stand against curiosity to open the box that caused her possessed by the goddess of death and sleep. That part was exactly what Waterhouse showed the viewers in this painting.
Psyche Opening the Golden Box reminds me think of another Waterhouse mythological painting-Pandora (1896) which depicts a mythological woman full of curiosity opening a golden box also. There are two common points of these two paintings:
Waterhouse depicted the similar countenances (curiosity, discreet) from side face and half-naked their shoulder.
Using some warm watercolors to describe and create similar surroundings (green waters and brown trees).