Crying Woman portrayed an extremely sad woman whose mournful fate and emotions were reflected by extensive colors and brushwork. Her eyes, lip, and nose appeared to be reversed and fragmented, which had the characteristics that the ordinary people hardly understood.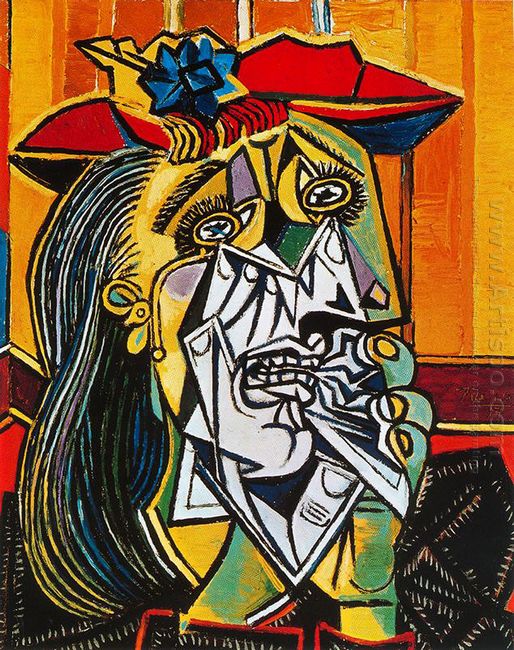 The crying woman was named Dora Maar, who was an accomplished photographer from Yugoslavia. In 1936, when she was nearly 30 years old, she met the master 55-year-old Picasso. From then on to 1946, she was the most beloved lover of the master. Picasso regarded her as his personal Mousika, and assured that she would protect his works. However, in the end, Picasso made an evaluation to this relationship lasting for 10 years: in addition to cry, he had no memory of her. In the last 3 years of their relationship, in an annoying spring, lovingly pathetic female painter Francis Gino took the initiative to show love to Picasso and became the goodness of his paintings. Maar initially pretended not to know, and then bore patiently, and then secretly cried. Finally, the great emotional contrast made her lose self-control and she seemed unbearable. She was determined to desperately reclaim the most private emotion which could not be shared with someone.
Dora Maar was born in Markovitch, sometimes called the crying woman. She had long been considered the most whirling woman among Picasso's so many long-term mistresses or wives. Since 1936, Dora and Picasso had lived together for nearly ten years. However, only from the biography of Picasso and art to observe Dora's life and work was not just for her. Before their acquaintance, she was a professional photographer and active in the Surrealist circle; after breaking up with him, she spent nearly twenty years diligently pursuing to be an occupational painter. However, despite the Dora held a personal exhibition in 40s or 50s, she hesitated and did not want to attract people's attention. The relevant details of her past seemed to be quickly forgotten. Her later years (until she died in 1997 at the age of 89) were spent in solitude. Sometimes she stayed in her studio in Paris, sometimes in the house Picasso bought for her in Beth. Until 1998-1999 years, after the auction of her house memorabilia and art works, many details of her life was able to be revealed.