Garden Of Love was completed between 1632 and 1635 by Peter Paul Rubens. At the age of 40, Rubens's wife died. He was very sad and married to 16-year-old Helen Fuhrman 4 years later. And they began a happy life. Then the painter started to yearn for the joy in life and fable themes in order to give vent to his feelings for a rosy picture. Garden of Love was created in such situations. This was a paradise on earth and the garden of love. The painter still put humans, the God, myth and reality in harmony with romantic passion. Pairs of passionate men and women delivered their affection in all kinds of attitudes. Women dressed in finery plume were looking forward to enjoying the warm love. The little amoretto was shuttling among people to spread a message of love.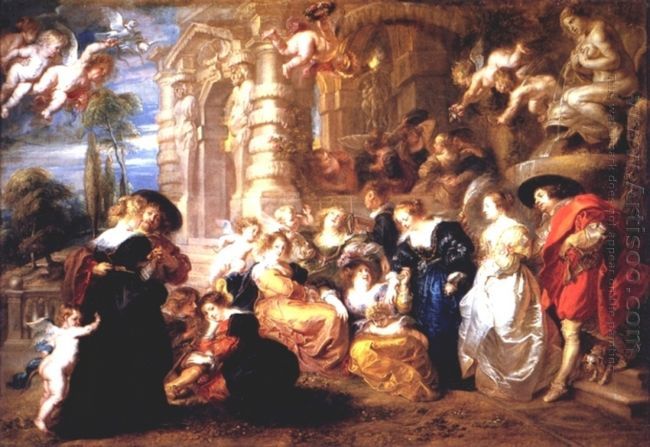 This painting was full of tender, warm, and cheerful mood. The nude statue on the upper-right corner was sprayed milk to the world, which was Hera watering the human love with her milk to give them the power of love. She was the embodiment of her holy matrimony and the God of love. Her milk once created the heaven galaxy. Rio-Tinto rato and Rubens painted Origin of the Milky Way.
Those women who were well-dressed and wrapped in large silk clothes with full breast were responded by his wife? On the left, was it Rubens with Helen? The large number of beautiful women seemed to not belong to this world; naked God played in the temple, the grand palace gate would screen the introduction which can only exist in the fantasy of the luxury of the state. The analogy and the real life by the magnificent clothes with warm colors, so that the white dress is particularly prominent. Complex movements and rhythm were started gradually from left to right and finally folded by men of cardinal. At the top of the man, the stone fountain was very lively, including the Venus statue like a real woman which was squeezing the breast. Lovers on the steps filled the triangle in the diagram. This was not only the spatial triangle, but also the one in the plane. And the vertical lines and curve made the shape below stable and responded with each other.