Emmie and Her Child was drawn by the female painter Cassatt in 1889 and is now collected in Wichita Museum of Fine Arts. Her works were full of the maternal love and freely depicted the indoor mother and daughter. Two people's facial expressions were delicate and their emotional expressions were reflected in brows. As can be seen, Cassatt's rough and lyric brushes were subject to the artistic effect of light perception, let alone the thinking of indoor colors shading and replaced by the cold tones to compose the painting. This was very helpful for people to appreciate the painter's unique artistic personality. This painting had the smooth brushes and avoided the excessive and broad strokes. People thought this was the impressionistic label, but her techniques in content and style were embodied with another style different from the impressionism. Portrayal of women and children was the basic theme of the works of
Cassatt, but she neither had Renoir's pure love nor Degas's easy grace. As a woman without marriage and children, she always treated the mother and child with sacred solemnity. Some people said this painting was quite like Madonna and Child in the religious theme.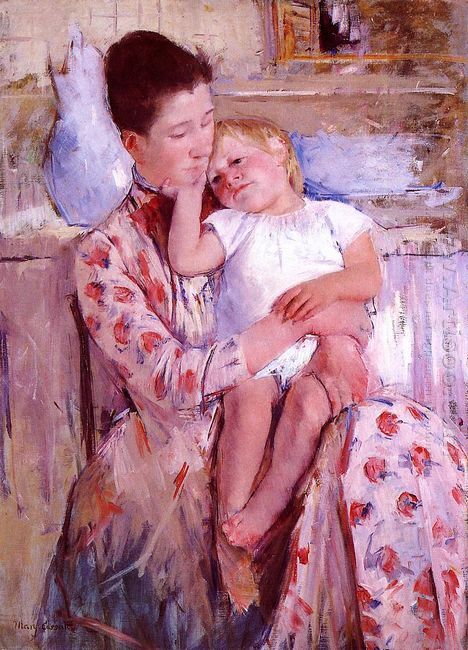 In this painting, the child's modeling was portrayed accurately and his action was very lovely and childish. The color combination was harmonious and ornamental without the deep air perspective treatment. Instead, it had the plane sense: the mother's face was painted rigorously, but her clothes seemed to be casual and elegant. In this painting, the relationship between the characters was much closer and more accurate. By this time, Cassatt had made the hand posture and placement as a means of expressing her feelings. The woman firmly clanged to the child. At the same time, the child also gently touched his mother. Such posture exhibited the mutual comfort and love between them. Cassatt placed the little hands of the child above the mother's hands and the mother grabbed her own wrist with one hand and held the child's thigh with another one. Two heads were placed together to emphasize this emotional consistence. The character's head and limbs were portrayed very strong. The color layout was limited and harmonious: using the iridescence brown, red and white. The colorful clothes of the woman provided the only decorative composition and the white coat covered in the child's chubby body corresponded with the kettle in the background.