In the summer of 1884, every day Seurat devoted himself drawing characters and scenery sketch in the BowlIsland from morning to night. For Seurat who lived long in Paris, it must be a very warm scene. A year ago, based on the theme of Asnieres located across the BowlIsland, Seurat created his first work Final Study For Bathing At Asnieres (preserved in London National Gallery). Seurat once painted 14 paintings to draw Final Study For Bathing At Asnieres.
From the overall composition, Seurat distinguished the water and the land with slashes. This painting was the first painting that established Seurat's position by stippling methods. The work depicted people enjoy bathing in the west of Paris along the Senna River. At that time, Seurat was only 25 years old and he explored a new technique—stippling method, which coordinated several raw materials, but did not mix the colors on the palette. Instead, this method took use of the human's intuition conversing through the brain and showed some colors in the eyes of viewers. Although this painting did not establish such stippling techniques, it was the so-called Impressionist declaration historical work.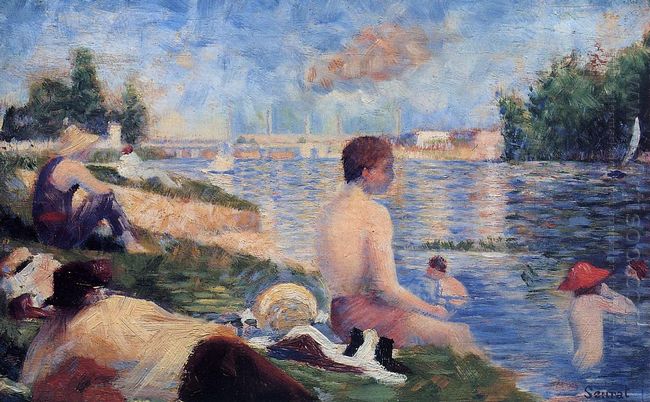 The true greatness of Final Study For Bathing At Asnieres was its artistic conception, which was the rational composition and perfect technique quite natural to convey to us clear lyricism. Like the discussion about the great spirit, the production of this lyricism went beyond the limit we were able to discuss. We could only say that this lyricism comes from the soul of a poet. Poer Farrell said, "People live in the real world, but what they see is only from their own dream." If the artist is to give the real world dream with the rigorous modeling of human, Seurat is worthy of a rare great artist in this sense.