Guernica is a town in Basque Country in northern Spain. It was bombed by German and Italian warplanes of the Nationalist forces of General Franco during the Spanish Civil War on 26 April 1937. Rage against the atrocity, at the same time, commissioned by the Spanish Republican government, who expect him to create a large mural for the Spanish display at the World's Fair in Paris in 1937, Pablo Picasso determined to created a painting in response to the war. Therefore, the oil painting Guernica has been born,
painting appear in grotesque shapes, close to the images of ghosts and monsters. It combined the style of Cubism, realism and surrealism to show the sufferings up individuals. In the right of the painting, a crying person falls down from a roof on fire, and a woman is dragging her broken leg to the center of the painting. On the left corner of the painting, a mother clutched her dead kid in her arms with great pains on her face. On the ground lies the corpse of a soldier, with a broken sword tightly grasped by the hand that has been cut off. There are no planes and no bombs in the painting, but we can see the despair and terror out of the silent scream. It only consists of three colors: black, white and gray, using simple colors to exude a complex and serious atmosphere.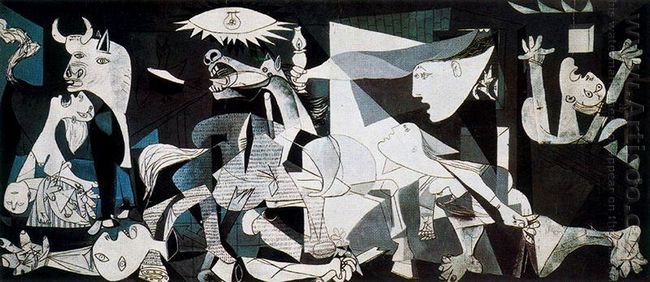 Now, Guernica is a perpetual reminder of the tragedies of wars, and admired by the world as a representative artwork in memory of the anti-Fascist war victory. As an anti-war symbol, it reminds people of peace and reflecting on the war.