The Ivan the Terrible and His Son Ivan on November 16, 1581 was painted by Ilya Yafimovich Repin, a Russia painter and sculptor. It depicts a historical tragedy of 16th century in Russia.
Ivan the Terrible was the first ruler as the Tsar of All the Russia. He was a great politician, militarist, and diplomatist. He leaded the country from a medieval state to and empire. He had a complex personality: he was intelligent and ambitious, but he was also ruthless, cruel and suspicious. And he killed his son in a confliction as Repin painted in the history painting: Ivan the Terrible argues with his son, and wound him fatally on the head out of anger. His son lay quietly and lifeless in Ivan's arms, with blood dripping down along the face. The Emperor's thin face is full of terror with regret, with frightened big eyes.  He puts his hand on the bloody wound as if want to stop the blooding, but just in vain. Repin used dark red in the painting, against the dark and gloomy background, to sharpen the horror atmosphere of scene. The realism painting, on one hand, implies that Ivan's atrocious government would finally go to an end, while on the other hand, presents the complexity of human beings.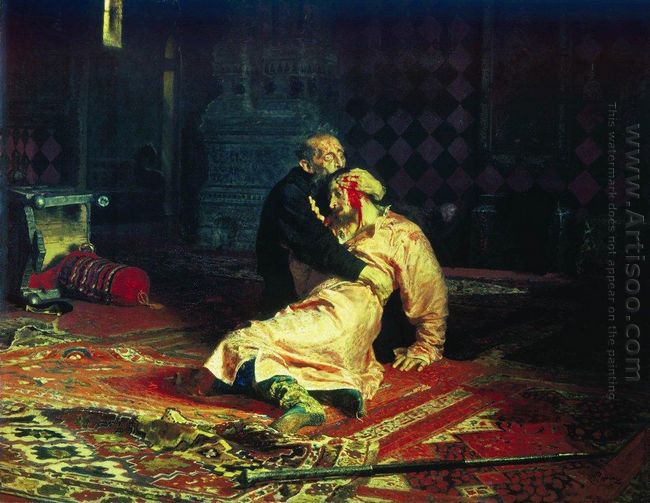 Repin began to consider painting this kind of historical episode after the assassination of Alexander II in the 80th. The bloody massacre irritated Russian people and evoked rebellion. Therefore, Repin painted this artwork as an attempt to recall other bloody events of Russian history, and expressed his rejection of violence and bloodshed.