Madonna And Child On A Throne was a double altarpiece of Italian painter Duccio. The first one (made in 1302) was originally preserved in the Siena Palace of the Republic, but now lost now. The second one (made from Oct.9, 1308 to Jun.9, 1311) was made for the Siena Cathedral, which was one
of the largest altarpieces at that time. The positive leniency panels were painted by the patron saint of Siena to worship the mother and son surrounded by the saints and angels. Below was the direct opposite the altar table, depicting 7 scenes of Christ childhood; it was painted with delta frontal virgin life scenes of the life of Christ were painted on the back. The main screen and the most narrative painting are now preserved in Cathedral of Siena museum.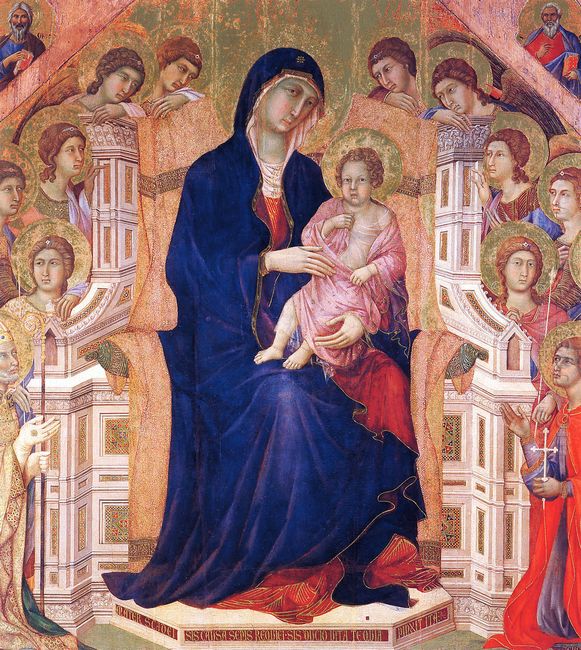 Madonna And Child On A Throne was Duccio's greatest work. This work was entrusted by the Siena Cathedral and made from 1308 to 1311. When the work was completed, Siena line team escorted Madonna And Child On A Throne to the cathedral, small shops were out of business and steel bells were ringing. But this masterpiece in the future had gone through the fate of dismemberment. Now the world's several museums were in possession of its local fragments. Both sides of Madonna And Child On A Throne had the paintings: the positive side was composed of three parts. The main part was the scene that Madonna ascended the throne surrounded by angels and saints. The above and below mainly described the later life of Madonna and deeds of Jesus's childhood (now disappeared without a trace); the back of the painting was Jesus's mystery. The positive part of body was made with the golden tune, with red and black, the whole scene was beautiful and brilliant. Madonna was wearing a black cloak and sat on her knees benevolence, on both sides of the distribution of angels and apostles symmetrically, the throne decorated with exquisite openwork pattern. The whole painting fully displayed the glory and beauty of a country. Despite of the influence of Byzantine stylized, the composition of this painting was somewhat cautious, the advantages and the depiction of the characters made it an early example of fine small elegant style.