Open Window Collioure was the work exhibited in autumn salon in 1905 when Matisse was 36 years old. In that salon, he showed the works of Open Window Collioure and Woman with a Hat. This painting was composed of wide vertical lines which were performed in bright green, blue, purple and orange. The window wall was only a small part, more like a gorgeous picture frame. But the window only accounted for the three fourths of the painting. The
casement was open. The balcony placed the flower pots and growing vine, then was the sea, the sky and the ships were showed with the brightest colors. In the distance there was a beautiful pattern with bright little strokes. The strokes extended from the green dots to a little wider light red, white and blue. In this painting, Matisse had exceeded any impressionist and showed the slight traces of abstract colors. Matisse said that this painting was inspired by the illness when he was 21 years old. What he painted was the window that he had stared at for a long time in the patient's room.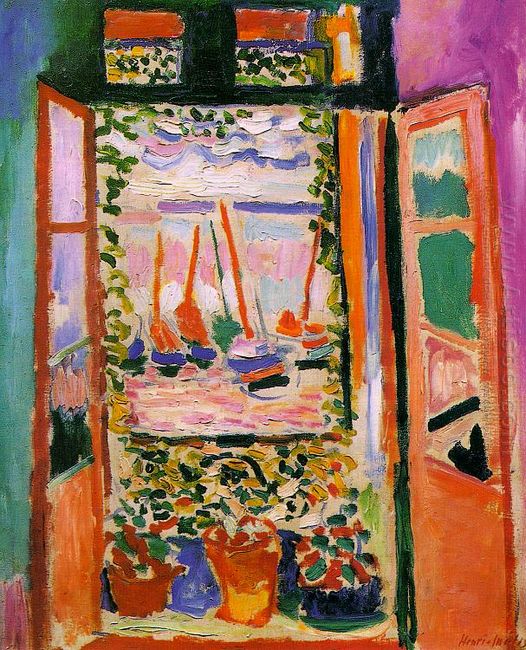 Open Window Collioure was perhaps the first example that the painting topic achieved the full development. For the rest of my life, Matisse always preferred this theme. It was only a small part of the wall and the windows accounted for a large space. The outside world was a beautifully decorated pattern with bright small strokes. Matisse said, "My painting is to express a state of mind." The open window was showing a state of mind.