Portrait of Pope Innocent X was perhaps Diego Velazquez outstanding portrait. The figure in the painting was the pope who ascended the throne in 1644. This pope seemed to never leave a good impression to people based on the people's notes. Even he was considered to be the ugliest man throughout the whole Rome. Reportedly, his face was not symmetric and the forehead was bare, who looked somewhat deformed. And his temper was irritable. However, such an ugly and gloomy man became a perfect descriptive theme under the Velazquez's brush.
In 1650, Velazquez once again came to Italy and left this piece of precious portrait to the pope. The whole painting adopted the pure tone, like a red variation. The red skin, blood red lips, shawl gleaming the gloss, the little red hat on the head, the red velvet on the seat's back and dark red background created a singular effect, making people feel his saliva was also red if the bishop opened his mouth. He directly pointed to our eyes with the tight brow and each reader was able to boldly guess his character: sensitive, cunning, insidious, sinister. In fact, when the portrait was finished, the pope seemed somewhat embarrassed and accepted this work. Although he did so, he did not show it. In the face of this famous artwork, he only made a remark, "It is so real."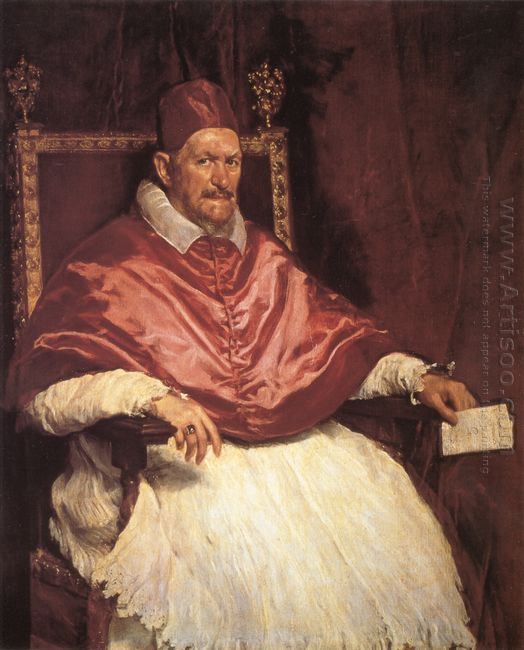 The whole painting took the red as the background and showed a sense of dignity to bring out the pope's serious majesty. The pope's face showed an instant strong expression and portrayed the cruel and cunning inner world; but from the Pope's weak and feeble hands in the chair, it was not difficult to find out his spiritual weakness, which enriched the Pope's image and left the unlimited reverie for the future generations. His red cape on the pope and white vestments formed a strong color contrast and rendered the painting's solemn and dignified atmosphere. This painting showed the painter's superb painting skills, which had the high artistic value.