The Liberty Leading The People was based the July Revolution in 1830. France was undergoing the second restored bourbon in order to strengthen the imperial power, announce the dissolution of Parliament and restrict citizen's right to free elections and publishing. A man named Clara Lessing firstly lifted the symbol of the French Republic tricolor flag; the young Allaire inserted the flag to a bridge near Notre Dame de Paris and shot down. The young girl in the painting held the flag with one hand in the smoke and held a gun with another hand. She fought at the head and was calling the masses to move forward. The color of a person's coat, the exposed shirt and belt next to her was the same as tricolor flag. A republic flag flying above the north tower was vaguely seen. Looking forward to the coming of freedom was a true portrayal of the uprising participants. This painting was based on the final screen of hundreds of "July revolution" sketch.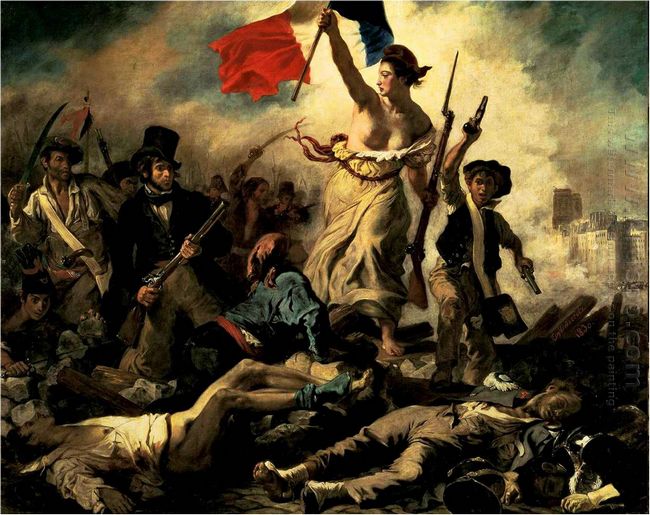 The work showed the smoke of the street scene. This painting took the goddess image as a symbol of liberty. She held the flag high and led the revolutionary advance bravely. The painting was with great momentum and strong appeal, blazing with bold colors. The Liberty Leading The People reflecting the revolution in 1830 was one of the most romantic Delacroix's works. The painter praised the revolutionary movement of the workers, the petty bourgeoisie and intellectuals in the untrammeled enthusiasm. The image of women holding the flag of freedom of God here embodied the characteristics of romanticism.
She was healthy, strong, resolute, beautiful and naive, who was leading workers and intellectual revolution team to forge ahead. Dramatic effect formed by the strong light, and rich and strong color and full of dynamic composition formed a strong, intense and passionate atmosphere, making the painting have a lively and exciting force. After Napoleon's resignation in 1815, Louis XVIII who fled abroad returned to France and became the king, which was the "Bourbon" restoration and the feudal forces were rampant. In July 1830, Louis XVIII′s heir Charlie attempted to further restrict the voting rights and freedom of the press people and announced the dissolution of parliament. Paris residents upraised. They took up arms to the barricade and fought for the overthrow of the restored Bourbon. Finally they occupied the palace and Charlie fled to Britain.