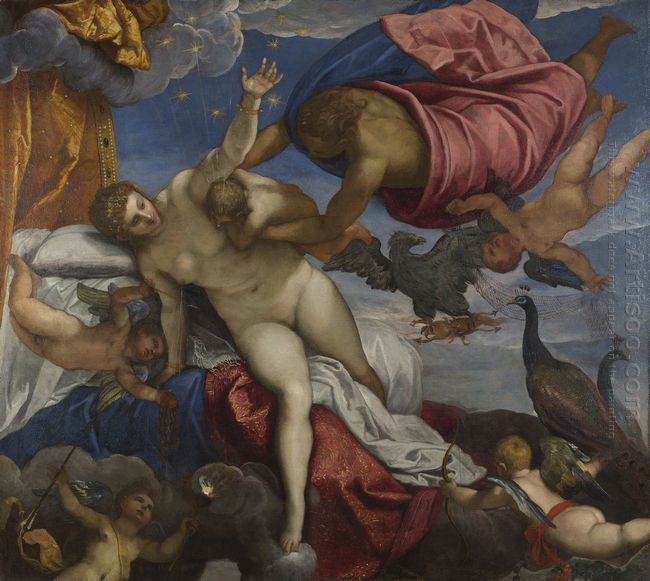 The Origin Of The Milky Way was made in 1578, which was a representative work in the painter's late time. This painting was very large, measuring 148 × 165 cm, which is preserved in London National Gallery. This work was based on the Greek mythology: Hermes was ordered by Zeus to bring the new born Heraclas to Hera; he wanted to such the milk when she was asleep for longevity. Hera woke up from sleep, and the milk gushed into the flashing Milky Way in the sky. Here the painter wanted to show the moment that the flying Hermes was bringing Heraclas to Hera. Because Hera was unprepared, so he was a bit bewildered and hurriedly dodged. His body seemed to be out of balance. Then Hera's milk splashed and formed the galaxy od nowadays. So in English the galaxy was also called Milky Way.
This was certainly a beautiful legend. The painter intended to show his artistic characteristics based the theme of this painting. He was good at accurately describing the characters' movement, no matter how difficult was to depict the forms. He was able to accurately reproduce on the painting screen. At the same time, he was good at the performance of the human body, especially the beauty and charm of the female nudes. This painting fully displayed Tintoretto's human skills. In this painting, we can see the artist's incomparable performance in characters'movement, naked beauty as well as the rich and complex light changes. In addition, the painter paid much attention to the rich composition. The little angel around, the giant eagle (symbolizing the lord Jupiter), the green Peacock in the lower right corner were all the decorations to make the painting full, which made the whole painting show a magical world of myths.
But we had to point out that The Origin Of The Milky Way was not perfect. Although it was full of imagination, the character's psychological description of performance was not enough. The panic and sudden surprise look of the goddess was not profoundly portrayed. The painter only paid attention to the performance of characters' movement, treatment of naked beauty and space, while ignored the subtle changes of human inner and psychological feelings.