This work was commissioned by the Duke of Guidobaldo II della Rovere. It may be painted to celebrate his wedding in 1534. The Italian cassone with the original decoration which was a traditional box (also known as safe or Keith, was one of the oldest forms of furniture) was regarded as a wedding present. The maid behind the painting was carrying off to look for the clothes of Venus. Surprisingly, in view of its open pornography, the purpose of this painting was an enlightening model for the duke's very young bride – Jurano.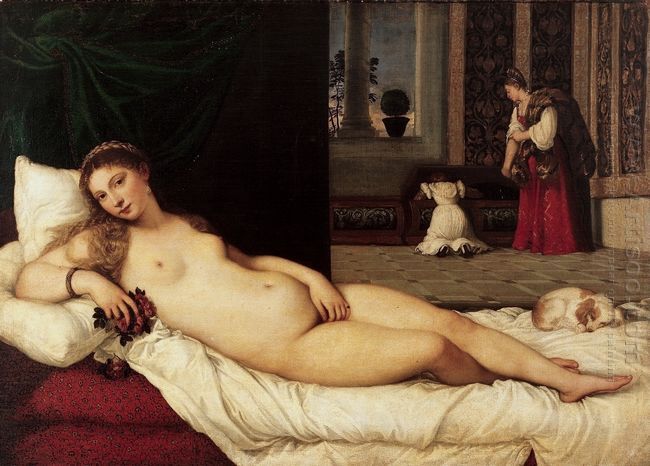 The Venus of Urbino showed Titian's delicate description and innovative composition. In front of painting, a naked beauty was lying in bed. The protagonist was believed to be a social butterfly with high income called Angela del Moro in Venice, which was also the mistress of Titian who accompanied him to have dinner. Behind her a large black cloth curtain covered the left half of the painting, and the right half showed the indoor scene and space. Titian cut off the background and dealt with the great difference to guide the viewers to know where was behind the shady place on the one hand. On the other hand, he intent to let people satisfy their inner desire. Titian's processing and composition method was a challenge and breakthrough in the history of painting.
The painter placed Venus in a noble room, who seemed to have become the master of the bedroom. The Venus was staring at the audience and was indifferent to her naked body. Her right hand held a bouquet of roses, and her left hand covered her vulva, suggestively placing in the center. There was a small dog accompanying her beside the bed, and the dog was often used as a symbol of the "loyal". The chamber had a maid who was prepared the clothes for the hostess after the bath. Titian placed Venus in an environment with strong family fun, which helped to strengthen the close and the warm feeling, and also catered to upper-class taste. In shaping the image of Venus, the painter gave full play to the body-building style, meant to depict the ideal and healthy women. Venus was rich, mature, gentle, and full of the young beauty. This painting became the leader in similar subjects, and also became the hard-to-reach typical type in female nude paintings.