Wivenhoe Park was made by the famous British landscape painter John Constable in 1816. It is painted on canvas, measuring 56.1 x 101.2 cm. The painting is now collected in the National Gallery of Art, Washington, DC.
In the paintings of Constable, the nature appears in its normal state as it originally is with the honest and real characteristics. Constable never dreams of depicting or pursuing the things that he has not seen and does not understand. He likes to portray the slowly drifting clouds. The quiet and transparent light blue sky is full of wonderful atmosphere. The sunlight revealed from the clouds sprinkles in the dense woods on the earth. The green grass and dairy herd which is leisurely grazing on the slope, the gooses that splash water and the fishermen that cast a net show intoxicating scenery like in a heaven. In this painting, the sunlight and the air have become the main subject that the painter explores and describes. This painting depicts the suburb manor in London. Constable makes his own processing according to the screen, for instance, he stretches the reflection on the lake to avoid the standard band to construct a vertical path leading to the red house in the center.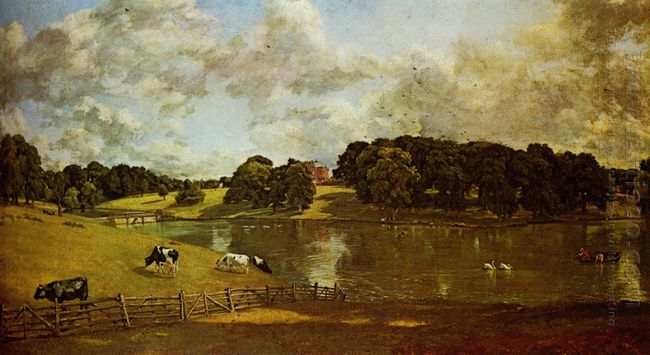 Some artists think that this painting lacks the unified effect, it's with good reason: the both sides of the painting (outside of the left cow and the right boat) are added later. The subscriber was a retired general who thought the original painting did not show the overall perspective of his manor. Thus Constable had to widen the both sides and drew a black cow toward the outside of the painting and the manor's daughter Mary Rebow who drove a cart to cover the juncture. If the both sides were hidden, the composition of the whole painting would be more perfect. Moreover, it is not appropriate to draw a cow facing the outside, because the audience will instinctively look out, but I'm afraid they will never look back.