Fishermen at Sea is the first exhibited oil painting by Joseph Mallord William Turner. He is born to be a painter, he entered Royal Academy of Art schools at age of 14 and his watercolor painting was first exhibited one year later. Comparing with many artists, he is lucky because he is reputed in his earlier age, which makes him become financially free and be able to paint as he like. Being recognized by his oil painting, he is also good at watercolor landscape painting. Besides, he used to be fascinated with architecture and practice a lot on pencil sketch and do many exercise in perspective, which pave a way for him to form his peculiar painting style.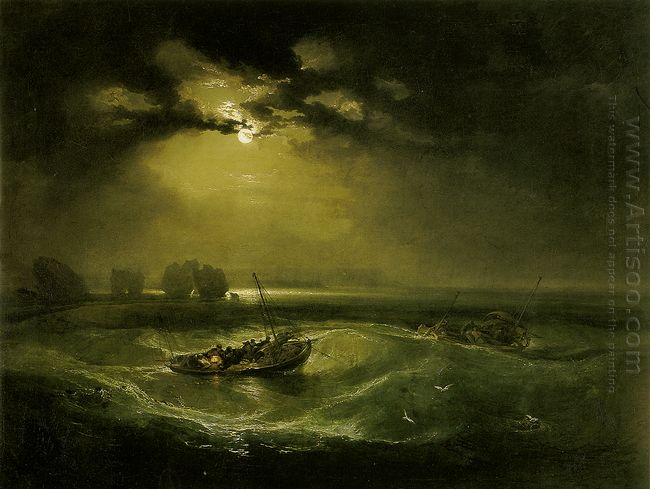 Fishermen at Sea is a marine painting depicting a nocturnal moonlit marine scene where a boat is in peril. This genre of painting is particularly strong from the 17th to 19th centuries. Turner is obsessed with marine art for his life and produces many famous marine paintings, such as The Slave Ship and Down after the Wreck.
Dark penetrate every corner of the world, trees in the distance were dyed black. We can hardly distinguish the outline of the estuary as it has already integrated into the darkness. Seabirds were pressed to fly close to the sea surface. Although it seems tranquil now, all of these foreshadow the forthcoming of a storm. Two boats float on the sea, they seems hardly sink when a stronger gale blow. Struggling against the gale, fishermen attempt at taking control of the boat and are prepared to face a storm. The large-area use of black make viewers held their breath out of terror. However, the bright moon show up in the center among the dark clouds, casting bright and clear glow down upon the boat, which echoes the lantern held by fisherman, adding radiance and beauty to each other. In between the moon and the boat, the cone-shaped bright area, just like someone tears a split of the darkness, bringing the viewers hope and relief.