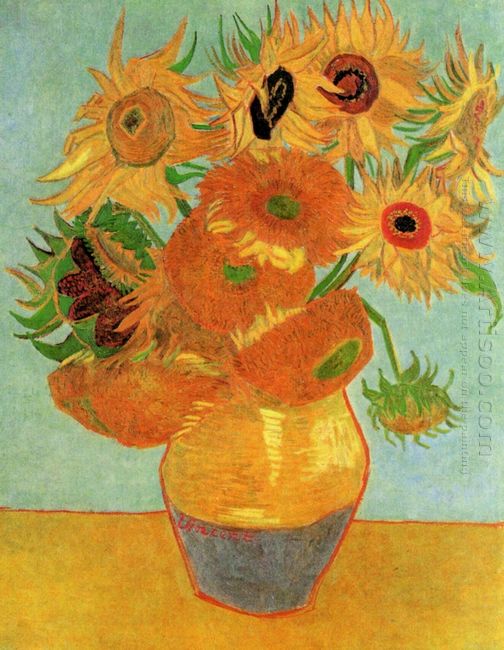 Vase with twelve sunflowers is painted by the legendary Dutch artist Vincent Van Gogh. Van Gogh has painted two series of still life paintings featuring sunflowers. The earlier series executed in Paris in 1887 depicts two sunflowers lying on the ground, which are exchanged with Paul Gauguin for his studio after he left Paris. The second set executed a year later in Arles shows bouquets of sunflowers in a vase. According to the announcement of Van Gogh, he has painted four different versions of the Arles sunflowers. They differ either in size, the color of the background or the number of the sunflowers, particularly, two more sunflowers lying in the foreground, center and right in the second version. The Vase with twelve sunflowers is the third version and the last version inserting three more sunflowers into the vase.
Van Gogh uses pale yellow, dark yellow, golden and brown to depict sunflowers sitting in different stage of life, from full bloom to withering. Some droop down as if petals hardly fall down on the table when you touch them while some other stands upward. In his early ages, Van Gogh uses no more than dark down to paint, which reflect his tragic real life. At that time, bright color are favored by the viewers, while gloomy color make it difficult to sell his paintings difficult. After get acquaintance with impressionists in Paris, Van Gogh begins to convert his color to carmine and gradually extend to more colors. This painting is celebrated for its innovative use of the yellow spectrum, partly because newly invented pigments made new colors possible. It looks like an embroidery and full of texture. The longer you look at them, the much richness it takes on.
Van Gogh gives the viewers his feeling and perspective of objects rather than reproducing the object. After his pallet become brightened, he become enchanted with unmixed and glorious colors and use color more casually to demonstrate the misery but realist relationship among the world.