When Picasso was a little child, his mother often praised him to others:" He is cute both as an angel and a devil. Anyone can not help but to see him again."
Those words proved the fatal attractions of Picasso to women in his whole life.
Women were Picasso's goddess, but to the seven women in his life, Picasso was the incarnation of angel and devil. Olga and Dora were mental breakdown due to him, Mary and Jacqueline chose suicide.
The style of Picasso was changeable and was called "chameleon", just as his mutable history of love.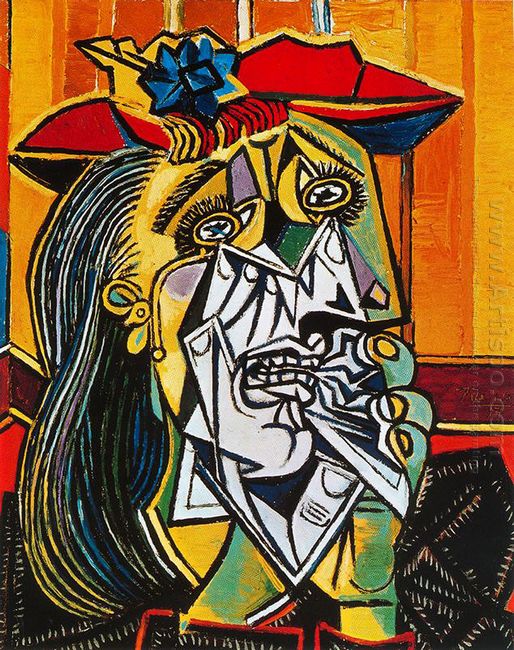 (One) First lover: Fernand Olivier
The 23 years old Picasso was still a poor artist lived in Montmartre who was known as the "laundry boat". Once the girl next to him – Olivier went downstairs to the faucet to take in water, Picasso fell in love with her at first sight.
They lived a life of drinking and drugging together, and at the same time Picasso said goodbye to his "blue period" and turned into the gentle "pink period".
(Two) The first woman he really loved: Eva Goel
Eva was the lover of a friend. Picasso called her "Eva" affectionately which indicated that she was the first woman he really loved. Picasso said:" I love her, I want to write her name in my paintings." And Picasso really wrote "I love Eva" on a painting.
But strange to say, Picasso always depicted his women on the canvas but leaved out Eva alone. And Eva died because of tuberculosis a few years later.
(Three) His first wife: Olga Khokhlova
When Picasso designed scenery for the Russian Ballet in Rome, he fell in love with the ballet dancer Olga, and they married officially in the next year. Olga loved the upper class life so Picasso changed his style too. He followed into the salon circle and turned on the style of "neo-classical period".
Later, Picasso began to go on the spree, Olga became mad and this romance ended in divorce.
(Four) The youthful girl: Mary Theresa
The prestigious Picasso saw her coming out from the subway station. He could not help but catch her hand and said:" Miss, you look so beautiful, and I want to draw a picture for you, I'm Picasso. " She was only 17 then but Picasso was 46.
The time together with Mary was the most profligate and joyful time of his life. Picasso separated the body and reorganized again and formed the unique creative style "the deformation period". At the 50th anniversary of their meet, 4 years after the death of Picasso, Mary hanged herself in the garage at the age of 68.
(Five) The strong and charming photograph: Dora Marr
They got to know each other in a café. Dora was a photograph, painter and model with strong personalities. They were bosom soul mates. When Picasso threw her over for someone new, she was hospitalized due to depression.
(Six) The elegant and self-confident female students: Franceva Giro
When Picasso and Dora were eating in a restaurant, he noticed the two beautiful girls in the nearby table. He could not help but go over and introduce himself to them, and found that the student who liked the beauty in ancient Greek was called Franceva.
Ten years later, Franceva went back to Paris with their two children and remarried later and then migrated to the United States. She was the first and the only one woman who had the courage to leave Picasso initiatively.
(Seven) His second wife: Jacqueline Locke
Picasso met her in a ceramic shop. She was a clerk there who was a young divorced woman with a years old daughter. She took care of all the affairs of Picasso and dedicated herself to him in order that he would just let her stay at his side.
After 13 years of Picasso's death, Jacqueline who was indulged in sadness and could not extricate herself out fired a shot on her temple and committed suicide. Just as Picasso's prophecy:" It would like a shipwreck when I die. A colossal ship sinks, then many people around it will sink too." Early in Picasso's funeral, his grandson was not allowed to take part in the funeral of his grandfather and drank bleach and died. His son committed suicide later.