Francois Boucher (1703 —1770) is one of the most typical Rococo painter, engraver, and designer. Most of his hundreds of works are decorative paintings and illustrations. He creates his paintings in a meticulous and carefree way so that becomes a most fashionable painter. His sentimental and simple style is widely followed and therefore makes a great contribution to the improvement of Neoclassicism. The works of Boucher are considered as the perfect expression of French taste in the Rococo period.
Boucher makes great artistic achievements in ceiling paintings, decorative frescoes, portraits and landscapes of pastoral style. Boucher is a controversial painter in the history of Western art. His famous paintings include Birth of Venus, Diana Getting out of Her Bath, An Autumn Pastoral and so on. Among these paintings, Diana Getting out Of Her Bath catches more attention.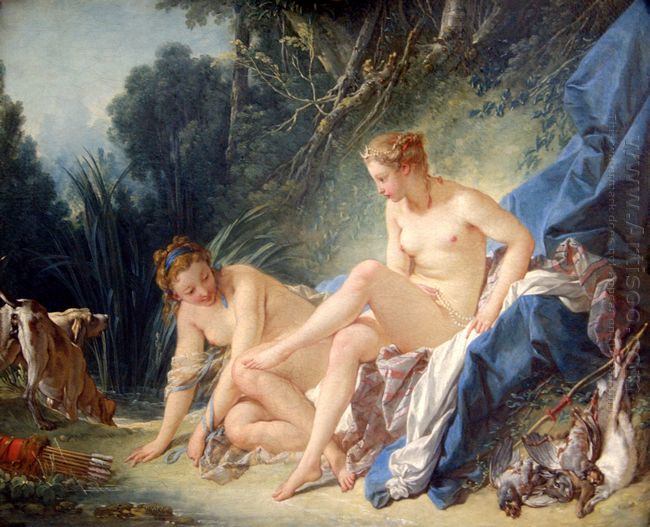 Diana is ancient Greek moon goddess. Boucher makes this painting his best work through its skillful artistic techniques and aesthetic taste of depicting strong powder temperament, which receives a great popularity from the aristocracy. The painting depicts Diana just finished bathing sitting on the hillside after she returned from hunting. There is an arrow pot and preys hunted lying on the grass and hounds is drinking water. The maid bent to the ground and her eyes concentrate on Diana's tilted right leg and toes. They seem to be searching for something. The feminine body is exquisitely depicted in bright colors and delicate brush strokes so that brings the mythical goddess into the scope of aesthetic worldly enjoyments.
His paintings on the subject of nude women in mythology, shows the declining aristocracy pursuing for a life of debauchery. The nobles ask for the paintings to be made as sweet as possible and full of sensual temptation. The nude goddess he painted looks as if pinched from rosy clay, without sense of reality. The paintings that can best represent his style are those mythological story painting used for decorating palace, such as Diana Getting out Of Her Bath. These works are in gorgeous colors which show his imagination and talent in decoration. Boucher is also interested in collecting Oriental arts and crafts.