The Bay of Marseilles, view from L'Estaque is the representative work of the great post-Impressionist Paul Cezanne.
a bay with strong thick blocks of color. A variety of blue stretches from one side of the canvas to the other end, establishing meticulous and syncretic strokes.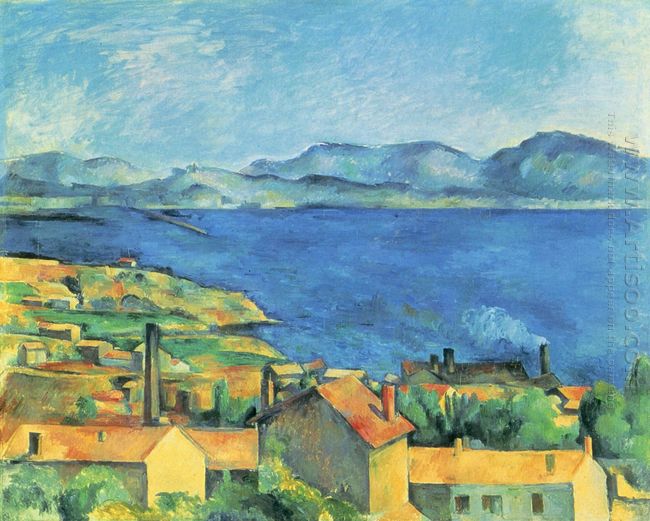 Behind the bay is a row of undulating hills. Above the hills is the blue sky, which is added a very pale rose red strokes, just like a faint afterglow from the sunset. Cezanne cuts off space at the edge of the painting. The blue color of the bay is much more impressive than the prospect colors of brown and red so that the space becomes ambiguous and similar. We must take it as a panorama painting in depth as well as again color permutations on the surface of the painting.
The Bay of Marseilles, view from L'Estaque, unlike paintings of the Renaissance or Baroque style, its space retreats into an infinitely far-reaching perspective. The buildings in the front view gather together and close proximity to the audience. These buildings are simplified into cubes and the color on the side is bright. The buildings and the trees behind the house are in yellow, orange, red, and green. Even they become smaller, they seem to be of the same clarity as the bigger one.
Though we can clearly tell what the house, roof, chimney and trees are, it is hard to imagine that they exists in the real life. If we are looking for the space and the air around the house and chimney we will find that empty space does not exist at all. The trees on the right sight of the house should be a little farther. In fact, the tree is next to the house in mottled colors. Cezanne wants to recreate the nature by colors. He believes that the sketch is the result of using color properly.
Although Paul Cezanne has struggled, hesitant and dissatisfied time to time, he definitely achieves great success through this painting. Cezanne is possible to establish a new concept of painting o and has a great impact on the 20th century painting for over 60 years lies in his proper use of the color and instant phantom of impressionist as well as his strong and sensitive perception on observing nature.