Hunters in the Snow depicted the agricultural simple life scenes to express his love. This painting was one of group paintings which a Belgian collector ordered to Peter. Hunters in the Snow was a masterpiece created by Pieter Bruegel in 1565. This painting is currently preserved in Vienna Museum of fine art.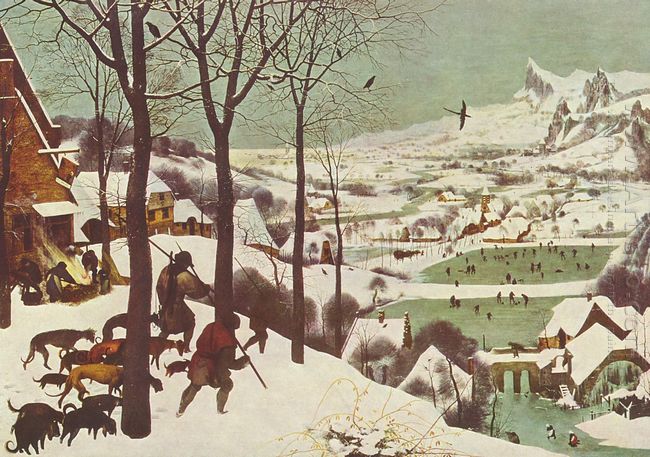 A complex glimpse in winter became a perfect integration in the painter's strict order. The proper distance perspective treatment made the layout and composition with a profound sense of space and flow of the atmosphere. The combination of hillside and horizon, the thick trees and snow covered land, forest running between the hunter and agile dogs together formed the ingenious, static and dynamic combination. The glacier figure and air flying birds made people feel the solemn quiet winter's vitality. Overall, the painter basically used the contrast of black and white grey to control the shape of the character and the nature. Such calm and clear attitude was praiseworthy for one's excellent conduct in Bruegel's mind. Perhaps in this painting depicting the terrain features and beautiful appearance of the giant,
containing the desolate atmosphere that enveloped the life. Bruegel was not a farmer, but all showed his love for the country life.
This painting showed the painter pays attention to the countryside style Lyric scenery and quiet simplicity. This was a profound landscape painting with people's activity. The painter seemed to be looking at the hunter from top of the mountain and make hyperopic panorama through the hunter. The hillside and horizon in diagonal form combination form images which were the most changeable slope to the trough. The proper distance perspective treatment made the screen with a profound sense of space and air. The painting had very skillful process. The thick trees of similar silhouette stood in the foreground and white snow covered the sleeping earth, solemn and quiet. And the hunter across the forest and the clever dog, distant ice skaters on figure and flying birds in the air endowed the quiet mountains with full of vitality.