Tintoretto completed The Miracle of St Mark Freeing The Slave in 1548 and finished Finding of The Body of St Mark between 1562 and 1566. About St Mark, there was no complete record in the Bible. According to The Book of Acts, Letters of Paul, First Epistle of Peter and so on, the disciple of Jesus was very young when Jesus lived. He had written Gospel of Mark based on Peters' narration. All the painting deeds about Mark were from the Jesus's missionary miracles on the Three Gospels, which were also called the miracle of the gospel. This painting referred to St Mark's remains after being killed there when Mark did missionary work in Alexandria. Under Christ's guidance, several martyrs relics including remains of Mark were found in a temple.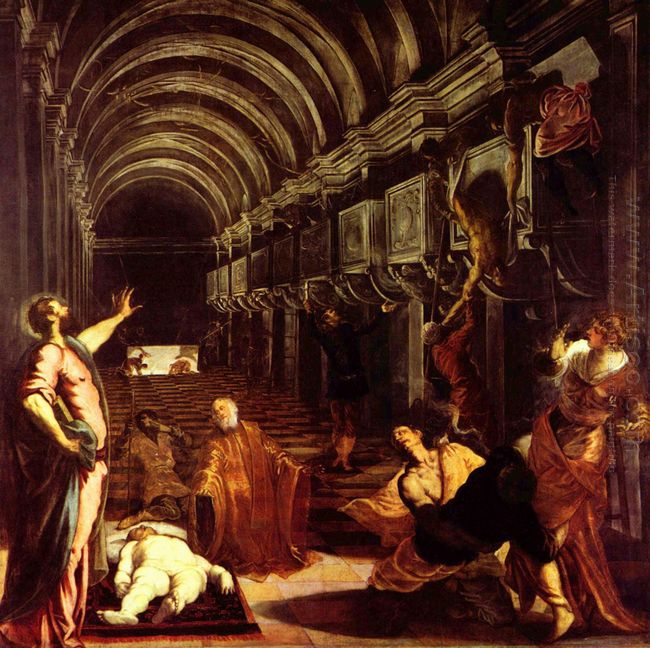 These paintings related to St Mark created by Tintoretto had a close relationship with St Mark Scuola. And this Scuola was a half-secular and half-religious charity guild in Venice. The participants were mostly the middle and lower handicrafts-man and businessmen. The democratic tendency of this organization was obviously better than any other guilds. A series of St.
Mark's Christian martyr stories with the relics showed by Tintoretto were in line with some poor believers there. In 1563, when the St. Mark's guild required the decorative paintings of the zenith, the painters only submitted the drafts for approval, but Tintoretto submitted the completed manuscript. The guild thought that it did not meet the rule and refused to pay the remuneration. Tintoretto did not care about that and still completed the work and gave it to the church. He had created more than 50 works for St Mark Scuola and the theme was St. Mark's miracle. This painting Finding of The Body of St Mark was one of these.