Hieronymus Bosch's The Garden of Earthly Delights was riotous with colors, and portray the elements in details, followed the tradition of the Northern Renaissance. Although it was based on the theme of Bible, it had strong secular. We can not help but praise the colorful scene and dazzling objects.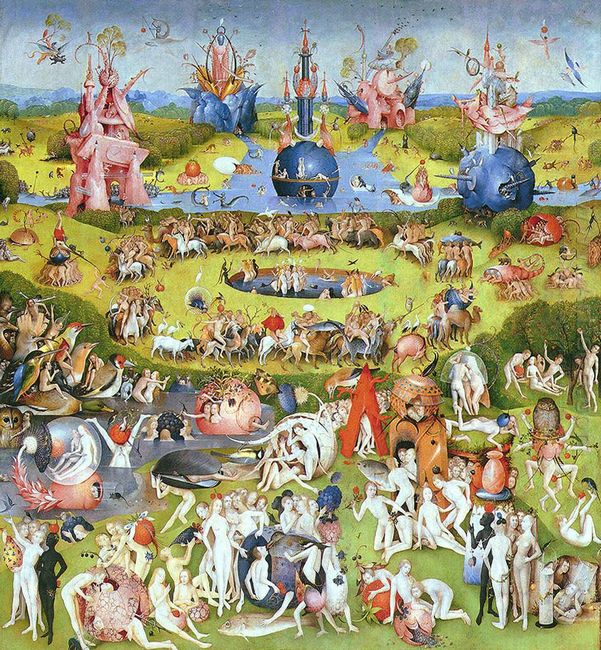 In this oil painting, there were a variety of exotic fauna and flora. In the upper part of it, the tree with sword shape branches was dracaena that wrapped around by vines. At that time, people believed that dracaena's red juice has magical healing power, and the grapes means wine, so that it metaphor the blood of Christ. In the upper right corner of the central pool, there existed a jujube tree which wrapped around a black poisonous snake. At the foot of the tree, some ugly creatures, such as snake, fro,climbing out from the pond. In the center of it has a pink living fountain, whose color looked like the robe o f Christ. The shape of this fountain is very strange, its color and texture were similar with crab that represents the moon—source of strength for alchemist in astrology. In addition, the root of the fountain had many rare stones, while a lot of birds perched on the residence. If we have a closer look, we could see an owl peeped out from a black hole in the center of fountain's circular base. The owl is the symbol of stupidity and evil in Netherlands legend, it represents the man that stubbornly resisted the will of god or turned a blind eye on the darkness of this world.
In the background of The Garden of Earthly Delights, we could see exotic creatures, elephants and giraffes were some of them. May be Bosch knew these animals from the manuscripts of his generation. Eden seemingly calm, as a matter of fact, the contest of sin and righteousness has begun.