The Daydream is made by the painter Rossetti based on a chick model, expressing his endless yearning and cherishing the memory for his deceased wife. This painting depicts in a thick tree, a beautiful young woman dressed in green clothes sits quietly under the trees. Her slender neck, plump and sexy lips, dim eyes and gaunt look add a touch of sadness to the entire painting. This painting is later known as the "Rossetti of beauty".
We return to the painting and from the simple environment we can see this is an afternoon garden, this young lad with the dazed sadness places a book in her right knee and holds a rose in her left hand. The flower has lowered the beautiful petals, showing she has been sitting here for a long time, perhaps doing a waking dream. Maybe she would always sit down. From all the associated titles depicted here, there seems to be a waking-up feeling. Although the plants in the painting are in full bloom, they add a sense of confusion to make the audience feel confused and at a loss.
Reportedly, the young woman is the dead wife of the painter Rossetti. The reason why he has created this work is that for a long time, he always remains his wife in his memory. This beautiful young woman in the painting seems to the angel dropping from the clouds. In this sense, Rossetti has the vulgarity and ideal, especially the beautiful woman entrusts the painter's nostalgia or even obsession with all sorts of feelings. The faint sadness is the painter's long-term accumulation in emotional daydream deep in the heart. From this point to explain, I prefer to regard this as the spiritual portrait painter.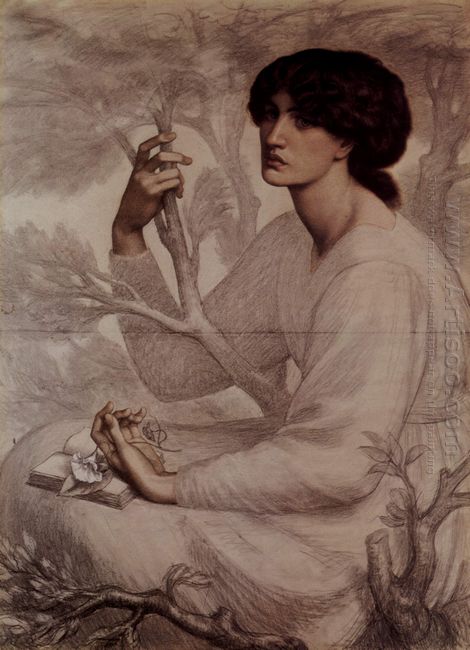 In addition, this painting has very exquisite composition and Rossetti always settles the people he has missed among the trees. The surrounding trees make the figures almost isolated from the rest of the world. The surrounding ethereal cloud constitutes a whole atmosphere and daydream, also building a perfect backdrop for the so-called dream. The books and flowers in her hand seem to fall to the ground at any time. At this point, this increases the certain depth of daydreaming to a great extent and also expresses this theme most incisively. In the technique, the beautiful face of the young woman, facial expression and sad expression are portrayed vividly. In dealing with the use of light and color, the painter's excellent skills are shown obviously. The shining clothes of the woman and the luster of the leaves on the tree add radiance and beauty to each other, making the audience feel the close combination of humans and the nature. Perhaps, this is the painter Rossetti's memory of a deceased wife—in the form of nature forever.