The Kiss (In German: Der Kuss) was one of the representative works of Gustav Klimt, who was the world famous Symbolist painter. It was painted during his "Golden Period" and became very successful. After then, he painted a series of paintings in a similar gilded style.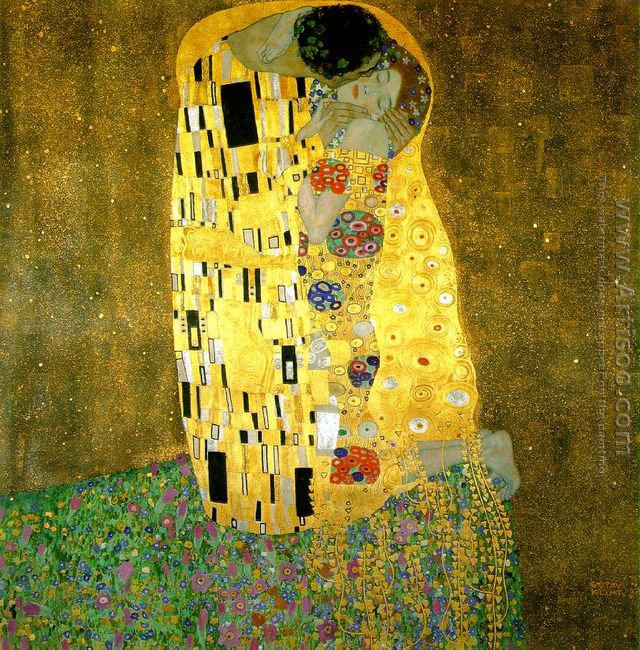 The Kiss was a square painting, showing us a couple embracing, together. We can see that their bodies entwined in robes. This expression style was influenced by the Art Nouveau of the contemporary Gustav Klimt covered gold foil on classical paintings highlighting the modern look of the work. The painting was a typical Symbolic work and it was the most popular work painted by Klimt at the same time.
When Klimt painted this panting he was in love with Emilie. The man in the painting lovingly holding the woman's head gave him a big kiss. And the head of the woman turned to one side because of the big kiss. Let's have a closer look, the woman was feeling the kiss with her eyes closed, without noticing her neck has been distorted. The bodies of two people embracing and kissing together and became one. It is hard to tell boundaries between them, as if fusing into a golden light. They were genuflecting on a colorful flowerbed, just like a altarpiece that admired love. The Kiss was undoubtedly the most beautiful works of interpenetrating the love.
The figures in The Kiss were thought to be Gustav Klimt and Emilie Flöge, but there was no evidence or record about it. Because the woman in this painting was quite similar to the female in the Woman with hat and feather boa, Goldfish and Danaë, so some people thought that the woman in the picture may be "red Hilda.
Some considered this painting a symbol of the strong lust. The woman in the painting nestled in the bosom of the man with her face and lips close to the man, ignoring the environment around, was a hint of sex. However, this revealed a warm, romantic and passionate life impulse instead of provocative and vulgar feeling against the golden color. Just as the Klimt advocates said: "No one has ever created such a tall and beautiful women portrait as Klimt" Variety of gold and silver, copper, and coral decoration improved the charm of this painting greatly. It was more than a painting but a delicate crafts.