Wheatfield with Crows was painted by Vincent van Gogh in the last few weeks of his life in 1890. As a result, it was considered as van Gogh's last painting though there was no evidence. How to interpret this painting? There is a common comprehension: this painting reveals Van Gogh's psychological distress through a dark, grim sky, three pathways leading to different directions and the black crows which symbolize death.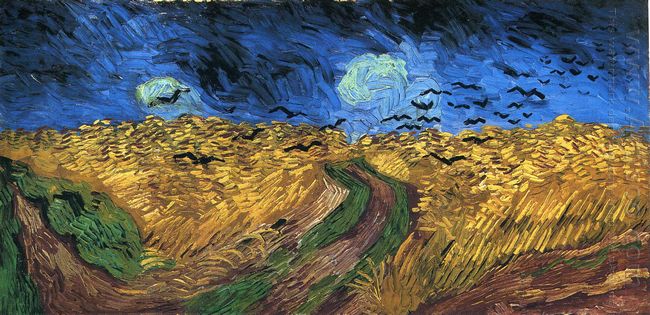 The composition of Wheatfield with Crows expands from three forks road to wide wheatfield. There is almost no central viewpoint, while the scattered crows make the picture vaster. All the objects are made on a double-square canvas showing a cloudy sky filled with crows flying over a wheat field. Van Gogh uses three-primary colors and green to present a simple and concise imagery. From this painting we can see his peculiar golden color that people are familiar
day, he came to this wheat field again and killed himself by a gun. This painting gets another name Wheatfield under Clouded Sky.