The Theater Box (French: La loge) is one of the masterpieces of Pierre-Auguste Renoir, who was a well-known French artist of the Impressionist style. In Renoir's paintings, he always shows his appreciation for the beauty and the feminine sensuality. This painting, The Theater Box, has not actually achieved the "non-black" assertion of Impressionist. It brings about the sharp contrast with black stripes. It is the only work that had not been received too much criticism in the Impressionists art exhibition.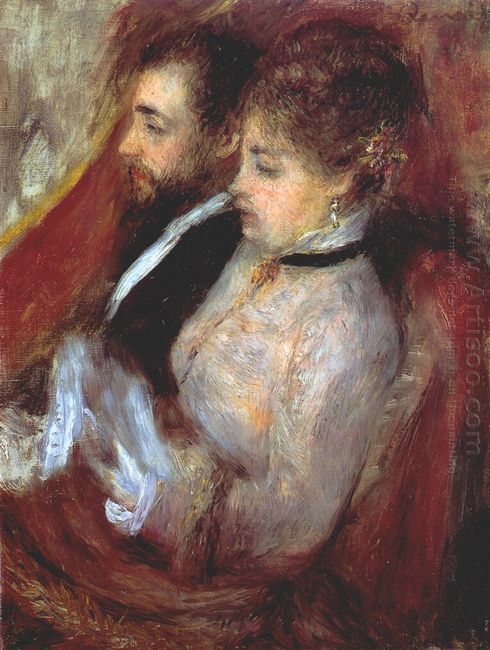 The painter created well-dressed woman in the theater box according to his impression gained from the theater. And then he went back to his studio beginning making his work. It is interesting to note that it is an Impressionist painting done indoors. The painter successfully showed us the real atmosphere in the box of the theater, especially the expression of the two characters. Their faces were so natural and seemed concentrating themselves on the show.
Though there are only two people appeared in the painting, the painter was able to clearly highlight the image of that dressed up lady who was in stark contrast with the gentleman behind. The woman was acted by a modal named Nini and the gentleman holding a telescope was acted by one of Renoir's brothers. The tone of the box is warm, being composed of rosy, black, white colors. The black stripes in the woman's clothes made her very eye-catching and the black bars together with white color also made her look glamorous. Renoir uses small strokes to reflect black so as to produce a rich and deep level and finally enhance aesthetics.
Portrait was quite flourishing for a long time in the history of European painting, and the impressionist portraits were more vigorous. Renoir's portraits were highly appreciated won scholars later. Renoir was famous for painting nude female. He became interested in the female body after the Franco-Prussian War. During the war, he joined the cavalry. Once the war was over, he immediately dropped the carbine, went back to Paris drawing his paintings again.